The Weird Sisters are a very popular band in the Wizarding world, and on the Wizarding Wireless Network. They have performed at every Yule Ball since 1974.
Among the Weird Sister's songs are Do the Hippogriff, Magic Works and This Is The Night.
Among the band's instruments are a set of drums, several guitars, a cello, a lute and some bag pipes.
All members of the band are extremely hair and all wear black robes that are artfully torn.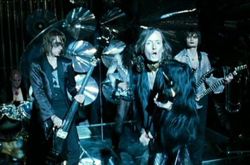 Band Members
Headthcote Barbary - Rhythm guitar
Gideon Crumb - Bagpipes
Kirley Duke - Lead guitar
Merton Graves - Cello
Orsino Thruston - Drums
Donaghan Tremlett - Bass
Myron Wagtail - Lead singer
Herman Wintringham - Lute